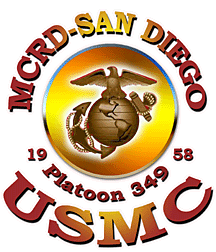 Group Photo
with Links to Bios
DIs
Sgt./Gunny Connell
Sgt. Cockrell
Sgt. Beltz
Upcoming Marine Movies, TV Shows and YouTube
For 349ers to submit Bios, Sea Stories, etc. email webmaster
Paul Prosise
wpkona@yahoo.com
Web site started
July 4, 2005
Plt. 349 USMCRD
San Diego, CA
1958

FAQ
1. How many recruits did we start with and how many graduated?

2. What state was the all-state platoon we were competing with? - Colorado
From Doug Shurtleff
3. What happened to the guy who decided he was a conscientious objector the day we were issued our M1 rifles? That was Ed Brehm, Yakima, Wa.

Ed and I traveled from Seattle to San Diego on the same flight. All he talked about was that the recruiter had promised him that the Marine Corps would fill his teeth. If anyone really remembers, his teeth were just terrible to look at. At the time of the flight, I wondered how they could fill teeth which basically had no enamel on them. I think he became a CO after they had pulled every tooth in his mouth. He told me
that he was mad at the Marine Corps because they didn't fill his teeth.
If that coincided with the M-1 issue then it may have been a combination of both. Shortly after arriving at 7thComm, I spoke to someone who had gone to a communication school at MCRD. Might have been Roger Abbott. Was told that Ed was still there awaiting discharge and was a Chaplains Assistant. Linda found his name on the SSI Death Index shortly after I began my search for the members of Plt 349. I figured he might be easy to find since he had only lived a couple of hundred miles away. Kind of shocking to see that he may have been the first to die, and only 30 years old when he passed. Looked up his obit in the Spokane paper since he died here. Cause of death was cancer. Wonder if it had anything to do with how bad his teeth were when he was only 17 years old.
From Doug Shurtleff


4.