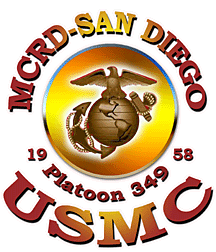 Group Photo
with Links to Bios
DIs
Sgt./Gunny Connell
Sgt. Cockrell
Sgt. Beltz
Upcoming Marine Movies, TV Shows and YouTube
For 349ers to submit Bios, Sea Stories, etc. email webmaster
Paul Prosise
wpkona@yahoo.com
Web site started
July 4, 2005
Plt. 349 USMCRD
San Diego, CA
1958
Marines We Will Miss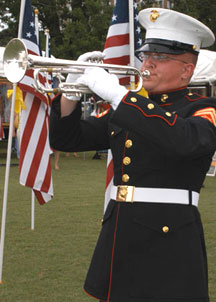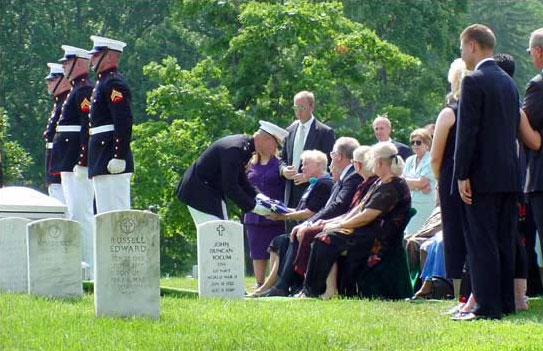 John A. Sebring (Lt.)
30July69
"My dad, John Austin Sebring, left the Corps as a 1st Lt. He was born in Tannersville, PA on November 7, 1931. He died in Syracuse, NY from brain tumors resulting from Hodgkins Disease on July 30, 1969 at the age of 37. He was survived by a wife, Marolyn, and three daughters, Karen, Linda, and myself. I believe he joined the Marine Corps in 1953 after his college graduation from East Stroudsburg University, in northeast PA. He began his service at Parris Island, SC. He was stationed in FL, TX and eventually CA, with a few overseas trips to Japan and nearby islands. My Dad was honorably discharged from the Corps (for medical reasons; he was diagnosed with Hodgkins Disease) in 1960. At that time, his doctors told him that he had about 9 months to live, but he lived 9 more years. After discharge from the Marine Corps, my family moved from San Diego back to northeast PA, where my parents had grown up and where both sets of my grandparents still lived. I am proud to say that I was born in San Diego in 1958 while my dad was stationed there; in fact, my full name is Julie Marine Sebring".


Clarence W. Connell (Gunney)

14Mar07
Richland Hills, TX

Ernest Cockrell (Sgt/Capt)
13Oct93


Alameda, Ca. (buried at Riverside, CA)

Roger D. Abbott
16Sep03
Ft. Wayne, Indiana (have obit)

Robert W. Ament
12Nov02
Starksville, MS

C. DeWitt (Dee) Bayes
11Oct03

"Dee" is what he was known by, and he worked in the industrial-size pump business most of his career, and just before he died was on the verge of some substantial success, having developed a unique pumping set-up for large buildings . . . it was getting lots of interest and purchases. Sad . . . he had cancer, but, probably due to his life-long smoking habit . . . remember in our day, they would GIVE us these miniature smokes pkgs as a "favor" to us ( here, have fun nailing another spike in your coffin, son). Remember that? Strange."

See: A 349er Out in the Middle of Nowhere

Alameda, CA




Ronald J. Black









Edward J. Brehm
27Oct70
Spokane, WA (cancer - have seen obit)






Darryl Collins '58 Photo 2008 Reunion




















9Aug13






















Kansas City, KS (Emphysema)




Gary A. Dalziel
7Dec03
Alhambra, CA

Jim Fitzpatrick
16Jun06

Robert L. Frazier
15Jul00
Austin, TX




Roger L. Gaff


















10Oct14






I want to let you know that Roger Gaff passed away on October 10, 2014. His health had been failing over the past six years.





Shirley Gaff






Arbie Gillaspie



















5Aug11



Wanted you to know Arbie passed away last night. I am so glad we made the trip to SD for the reunion. It meant so much to him. Thanks for everything.

Diann








Coos Bay, OR


Ralph M. Henschen
6Sep05
Ellenwood, GA (spoke w/daughter)

James L. Hunt
11Jan01 ?
Leslie, MI

G. W. Johnson
15Nov90

Jerry L. Keller
17Dec94
Rector, ARK

James R. Martin
12Aug01
Ohio

Everett B. Morgan
1Nov 93
Reno, NV

Thomas R. Parenti
12Feb66
Jefferson County, Ark.

Warner D. Seeger
26Sep98
Manchester, N. H. (have seen obit)

Ernest N. White
Apr73



Herman Carl Wiese

26Apr59

"My brother, Herman Wiese, died suddenly a year or so after boot camp. I also went through bootcamp at MCRD in 1966 as my older son did later on".

Virgil P Wiese




USMC Class of 1966



San Diego, CA


James L. Wilson
9Arp00
Houston, TX

The above names match names which are in the Platoon 349 recruit training book. Linda researched the SSI Death Index and found the above.
Dates of birth were 1939/1940 and could be former members of Platoon 349.
Sorry for any errors or omissions. If any of you have corrections or additions please contact Doug or Linda Shurtleff.
email:DDSandLJS3@yahoo.com
.