Paul Prosise with his sons, Glen on the left and Jeff on the right, and grandsons.
Paul Prosise
Place of enlistment: Pearl Harbor, Hawaii
Years Served: 1958 - 1962

The DIs: I had a lot of respect for all the DIs. S/Sgt. C.W Connell introduced me to the "invisible chair". I don't remember what I did wrong, but I'm sure I never did it again!
Sgt. Cockrell - see "Worst Memory - Running" below. I enjoyed Sgt. Beltz's sea stories and also remember him having the whole platoon write his girl friend.

Best memory of boot camp: I survived.

Worst memory of boot camp:
3:00 AM Footlocker Drill - that the DI's liked to do is have us run around in the sand holding our footlockers over our heads until we wished we were dead. Also hated having to quick time in place and dry shaving because the DI thought I had not shaved good enough - ­ not pretty, lots of blood. The thing was, at 17 I really did not need to shave yet.

Running: In high school I was on the track team. I had injured my leg, but I thought it had healed when I enlisted. Then came boot camp and Sgt Cockrell just loved to have us RUN, long runs and with each run the pain in my leg got worse. My squad members were betting each other as to when I would drop out, but the thought of being sent back and starting boot camp over was worse than any pain so I managed to make all the runs limping most of the way.



Outfits: 1st 75mm Anti-Aircraft ( SkySweeper) Bn. 29 Palms, CA that changed to 1st Light Anti-Aircraft Missile Bn. (1st LAAM) 29 Palms, CA. This was the Marine Corps first missile battalion of Hawk missiles. Attended NCO School in 1960. Corporal E-4 / Worked up to Communications Chief. Part of the time I was TAD to Base Special Services teaching photography until I left the Marine Corps..
In 1960 I participated in Operation "Blue Star," Taiwan (Formosa) a joint Navy, Marine, Air Force amphibious operation, the largest amphibious operation in the Western Pacific since the landings at Inchon, Korea.
USMC Bio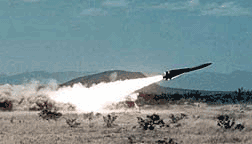 Tours in: 29 Palms, Hawaii, Philippines, Taiwan (Formosa).

Bio: Went to high school in Long Beach and Hawaii. From there, I went into the Marine Corps for 4 years. Signed up hoping to be a combat photographer but the closest I got to that was teaching photography! After I got out, was a photographer for 7 years for North American Aviation which became Rockwell Int'l. I traveled all over the country photographing at their various plants and different bases. Then I worked for Scientific Data Systems which became Xerox Corp. for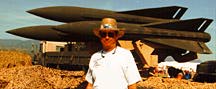 5 years as their Photo Department Manager. In 1975, I started my own business as a commercial photographer and in 1994 added computer graphics and web design. I also taught basic computing to seniors at the Irvine Senior Center. Was married for 20 years and have two terrific sons. In 1986 I got remarried to my lovely wife, Willa, on a catamaran off the coast of Maui. In May of 2006 we moved to Hawaii and plan to spend our days scuba diving, kayaking, and snorkeling - and taking pictures.
Personal Web Sites: My Hawaii web site.
Sea Stories
A 349er Out in the Middle of Nowhere & Bayonet Training
1st 75mm Anti-Aircraft (SkySweeper) Battalion & 1st LAAM Bn.

Email address: wpkona@yahoo.com
Photos:
1. The Seven Amigos August 2010.
2. 75mm SkySweeper
3. Hawk Missile.
4. With my old outfit 1st Light Anti-Aircraft Missile Bn. (1st LAAM) in 1998.
5. Prosise Family 2010.
6. One of my Dolphin photos 2008
7. Getting scuba certified in Kona 2007
8. One of my Kona Turtle photos 2008
9. Three generations - Kauai - 2016
10 & 11 Enjoy taking soft drinks and snacks to our troops when they come over to
train on the Big Island.- 2016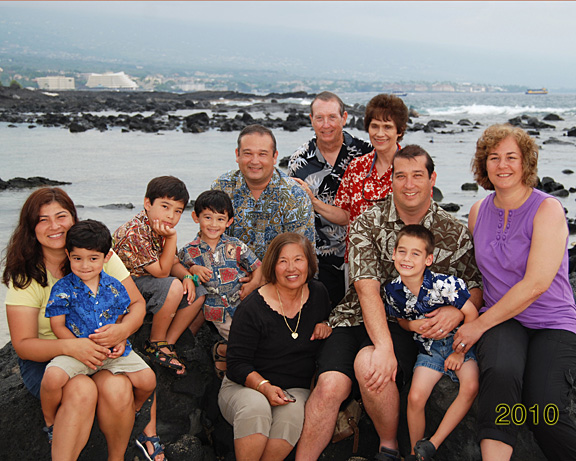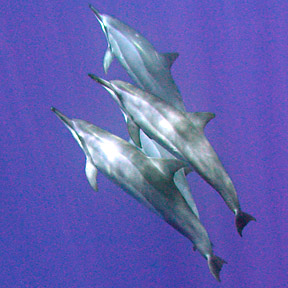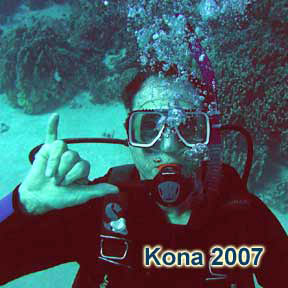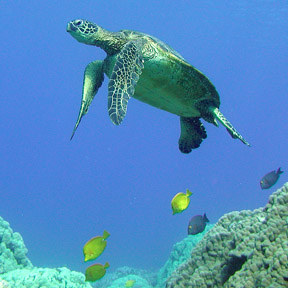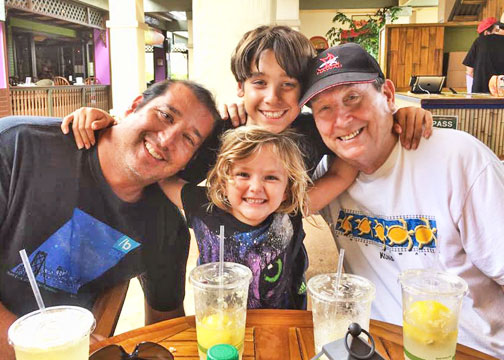 Three generations - Kauai - 2016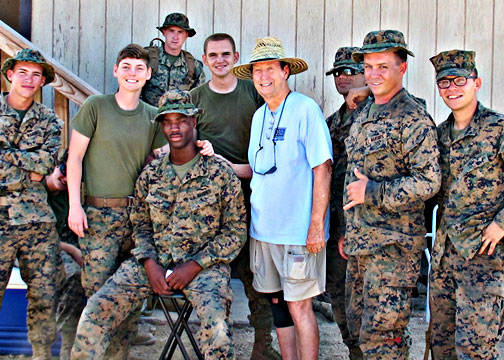 Enjoy taking soft drinks and snacks to our troops when they come over to
train on the Big Island.- 2007 - 2016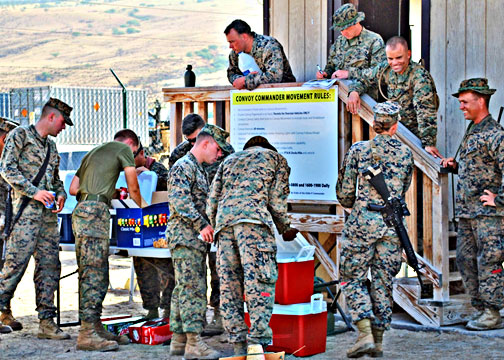 Return to Group Photo
with Links to Bios